Upcoming Services
(Sep 05, 1918 - Feb 19, 2020)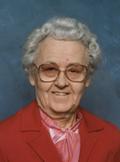 Ruby F. (Miles) Arment, age 101 of Columbia, Missouri, went to be with God on Wednesday, February 19, 2020.
Born September 5, 1918 near Leonard, Missouri, the daughter of Marshall G. and Ada (Anthony) Miles-Fast. On February 14, 1941 she was united in marriage to Lewis G. Arment.
Survivors include nieces, Lisa M. Miles of Columbia, MO, Elizabeth K. Miles of Jefferson City, MO, Cheryl Ann Brown of Macomb, IL, and Judie A. (Miles) Hackett and Lowell of Sarasota, FL; nephews, Manley G. Miles (Patty) of Montgomery City, MO, Kenny Stutsman (Becky Hopp) of Memphis, MO; and too many great nieces and nephews to count.
She was preceded in death by her parents, husband, one sister, A. Margaret Stutsman, and two brothers, Harold E. Miles and Denver R. Miles.
Ruby was a 1936 graduate of La Plata High School. She was employed as a clerk and speed typist in Chicago ...
Recent Services