Upcoming Services
(Dec 07, 1948 - Jan 20, 2021)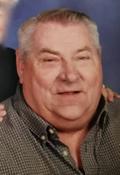 Larry Dean Voyles, age 72 of La Plata, Missouri, passed Wednesday, January 20, 2021 at his home.
Funeral services are pending.

(Aug 20, 1950 - Jan 19, 2021)

Lindsey Frank Evans, age 70 of La Plata, Missouri, passed away Tuesday, January 19, 2021 at Northeast Regional Medical Center in Kirksville, Missouri.
Born August 20, 1950 in Kirksville, Missouri, the son of Howard and Muriel (Gordon) Evans.
His parents and fiancée, Susie Tuggle preceded him in death.
Survivors include the Tuggle family and many friends.
Lindsey lived most all of his life in La Plata. He was a 1968 graduate of La Plata High School and worked many years at C&R Market. He was a member of the First Baptist Church in La Plata. Lindsey enjoyed mowing his yard, trap shooting, and shopping for cars.
Funeral services will be 11:00 a.m. Friday, January 22, 2021 at Travis Funeral Chapel in La Plata, Missouri. Burial will be in the La Plata Cemetery. Visitation will be one hour prior to the service starting at 10:00 a.m.
Memorials ...
Recent Services