Upcoming Services
(Nov 23, 1929 - Mar 18, 2023)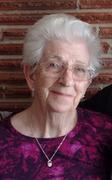 Marguerite Hodges, age 93 of La Plata, Missouri, passed away Saturday, March 18, 2023 at Boone Hospital in Columbia, Missouri.
Born November 23, 1929 in Boynton, Missouri, the daughter of Earl and Dessie (Rogers) Ogle. On August 26, 1949 in Kansas City, Missouri, she was united in marriage to Hollis Hodges who preceded her in death on January 8, 2000.
Also preceding her in death were her parents; one sister, Earleta Darnell; and one brother, Marvin Ogle.
Surviving are two sons, Randy (Dena) Hodges of La Plata, Missouri and David (Tammie Walker) Hodges of Oskaloosa, Iowa; two daughters, Joy (Randy) Murr of La Plata, Missouri and Holly (Ken) Clarkson of Springfield, Missouri; one sister, Jeannie (Lee) Collins of Dade City, Florida; ten grandchildren, Toni Hodges Williams, Tiffany Hodges, Jake Hodges, Heather Hodges Brassell, Ryan Hodges, Madison Hodges, Bridget Clarkson Allred, Courtney Clarkson Guison, Wendy Clarkson Robinson, and Andy Clarkson; twenty ...
Recent Services